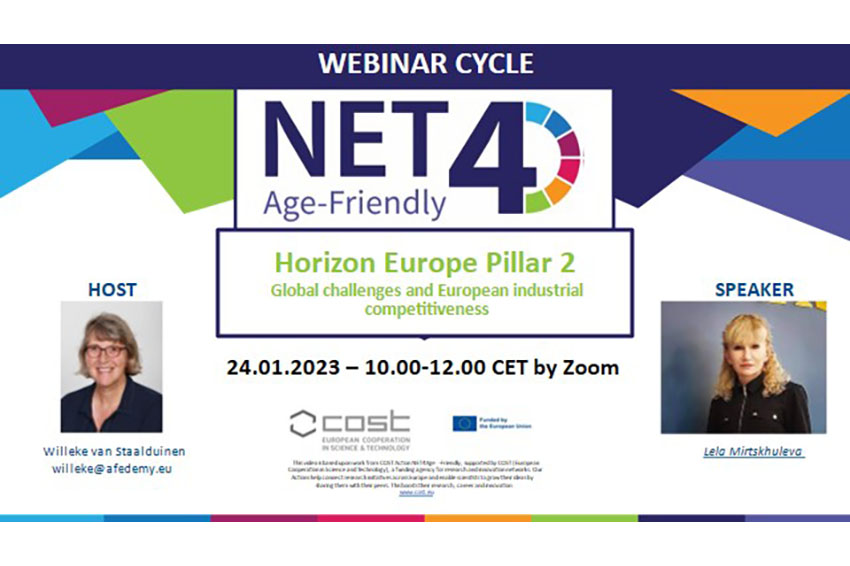 Over 30 members joined the NET4Age-Friendly webinar Horizon Europe Pillar 2 hosted by our Vice-Chair Willeke Van Staalduinen on 24th January 2023.
MC member from Georgia, Dr. Lela Mirtskhulava, presented the ins and outs of Horizon Europe and explained the clusters, disseminations, missions and budgets that are developed by the European Commission.
She demonstrated how to work with the Funding and Tenders Portal and addressed the importance of checking the clusters and destinations. SHAFE | Smart Healthy Age-Friendly Environments is a broad topic that can be addressed in several work plans.
After the introduction Lela presented how to prepare and write a proposal, emphasising on the importance of the consortium: the consortium should be complementary and as a whole capable to deliver the proposed outcomes and results.
To illustrate the writing, she used an example from health and very clearly explained what is expected to be written in Excellence, Impact and Implementation. She detailed the topics and gave overviews of common mistakes.
DOWNLOAD - Proposal Preparation and Proposal Template in Horizon Europe