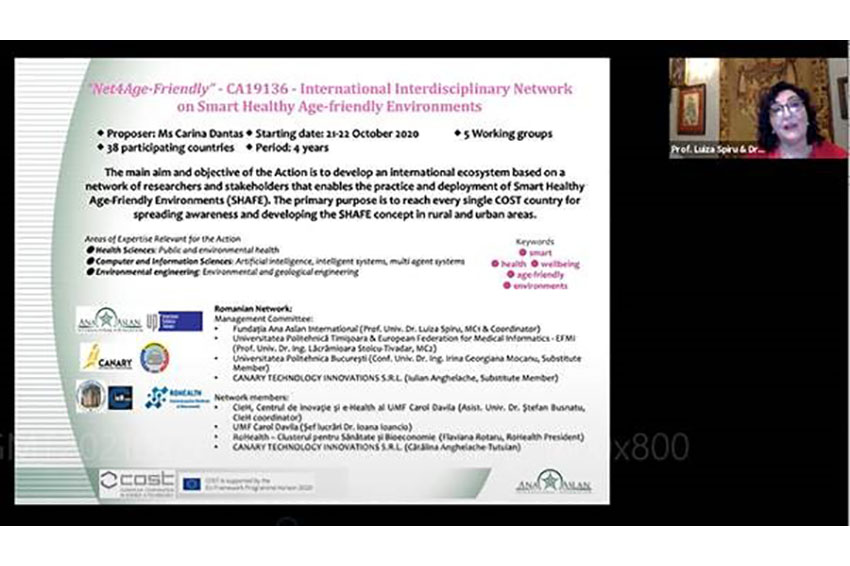 29 September 2021 |
World's Alzheimers Day was celebrated on the 21st September across the globe at the initiative of the Embassy of Romania in China, in cooperation with China Alzheimer's Association.
The same day marked 70 years since the establishment in Romania of the first Geriatric Institute, by Prof. Dr. Acad. Ana Aslan.
The Video-conference "Healthy and Active Ageing" organised to celebrate this day gathered diplomats, experts, scientists, media and the general audience in a presentation which acknowledges the present and future work of the Geroscientific community.
In the last 22 years Romanian Gerontechnology & Longevity Medicine has been led by the Ana Aslan International Foundation on a European and International level, through the Ana Aslan International Academy of Aging trademark.
In the Conference, Prof. Luiza Spiru, WG4 leader in the COST Action NET4Age-Friendly, shared the European experience gained in the Action, as well as Big Data projects with China through its experts. We are now celebrating together and sharing ways to find and implement Innovative Solutions for today and tomorrow - AGEING IN PLACE SAFE &SECURE.