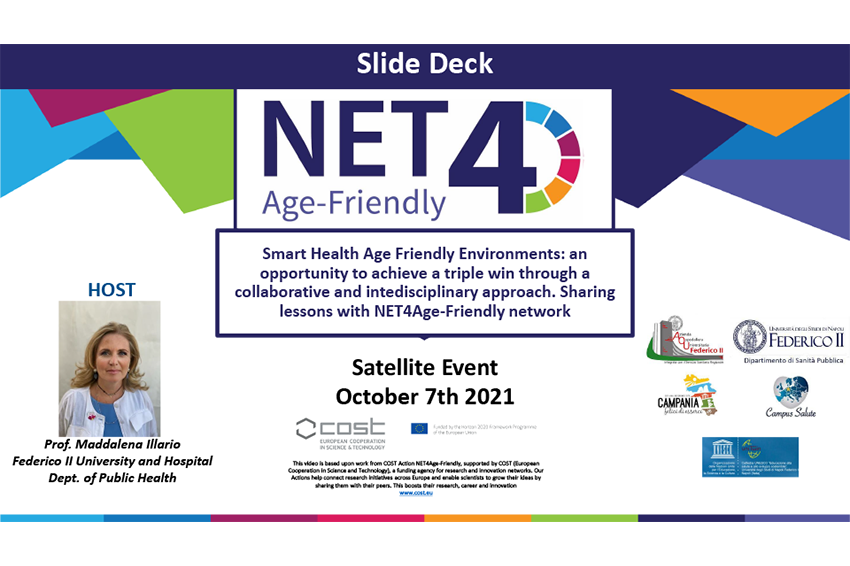 09 November 2021 |
On October 7th, 2021 the International Workshop Smart Health Age Friendly Environments: an opportunity to achieve a triple win through a collaborative and interdisciplinary approach. Sharing lessons with NET4Age-Friendly network was held in Naples. 
Aim of this workshop was to share SHAFE concepts with Federico II University composite community of multidisciplinary stakeholders, thus fostering their engagement in collaborative activities.
The societal challenges we have been facing since many years, such as population ageing, have been further complicated by the COVID 19 pandemic, that has been teaching us there is no trade-off between lives and livelihoods. Public health and the global economy are inextricably linked, and innovation plays a key-role as enabler of novel approaches to improve health outcomes and sustainability. 
Stronger health information systems and support for a digital transformation of health systems can translate into a long term return on the well-being of people and the functioning of economies and societies, provided that interdisciplinary and multi-stakeholders collaborations are fostered.
NET4Age-Friendly network plays a key role in building valuable synergies between different knowledge fields towards establishing new local and regional ecosystems or to promote the growth of existing ones in each European country involved, working in health and well-being towards an age-friendly digital world.
Click here for additional information.