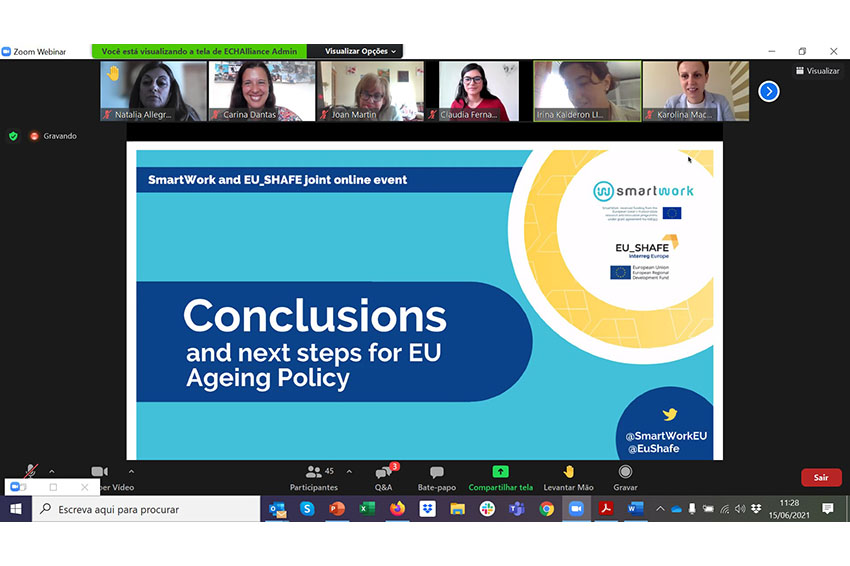 On 15 June, the Action Chair Carina Dantas was a speaker in the panel discussion on the Green Paper on Ageing "The role of new technologies in keeping older people at work and in good health" on behalf of NET4Age-Friendly and SHINE 2Europe.
The event, organised by the Organised by the EU_SHAFE and SmartWork projects under the ECHAlliance coordination, included a policy session with the Counsellor for Social Policy at the Portuguese Permanent Representation to the European Union and a Policy Officer of the European Commission (DG CNECT), followed by a panel session qith representatives from projects and initiatives that contributed to the Green Paper.
The webinar aimed at:
Identifying the areas of policy response that need further development, e.g. use of the new technologies for keeping the older people at work and in good health.
Highlighting examples of the technological developments that close the gap between technological developments and end-users real needs and expectations.
Discussing the socio-economic aspects, i.e. the availability of the devices and the internet, and their cost, as well as health and digital literacy of the users.
Leveraging the networking opportunities for the organisations developing the solutions and those that can potentially deploy them.
More information in: https://echalliance.com/event/eu_shafe-and-smartwork-online-event-contribution-to-the-discussion-on-green-paper-on-ageing/