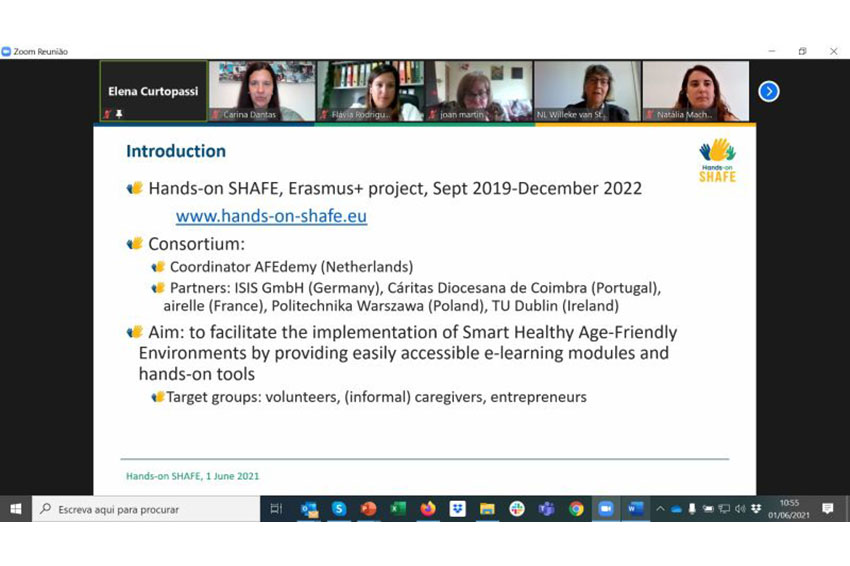 NET4 Action Chair and Vice-Chair, Carina Dantas and Willeke van Staalduinen, discussed SHAFE outcomes and the impacts of COVID19 in the grassroot implementation, in the webinar The Grassroot Experience During Covid19 | Enablers And Challenges, an event organised for the European Covenant on Demographic Change by Caritas Coimbra, SHINE 2Europe and the ECHAlliance, on June 1st.
Carina Dantas and Joan Martin hosted this event, with the main aim to share with the Covenant members the local hurdles and accomplishments with practical examples that may be useful for benchmarking. In this session, four Covenant members presented the challenges derived from the pandemic in the implementation of their projects and initiatives and how they managed to overcome them.
This was a very practical and hands-on presentation, with the presence of Natália Machado from Cáritas Coimbra presenting the DAPAS project; Willeke van Staalduinen from AFEdemy talking about the Hands-on SHAFE project; Isabelle LESTERPT from Autonom'Lab will present the Pharaon project and Luana Silva from Deusto University will share the EU_SHAFE practices.
After these presentations, the main conclusions of the work developed in the DigitalHealthProject, for "Supporting demand and supply for scaling up digital health and care solutions" was presented by Valentina Tageo and kick-started the discussion with the participants, especially grassroot organisations of different EU countries, on what needs to be enhanced and promoted.
Issues like the stable funding for implementing innovation derived from EC funded projects and the need for public information on the costs of "traditional" health and care services, that may be comparable to the new solutions proposed were questions discussed within the webinar discussion, moderated by Flávia Rodrigues.